Even with the help of professionals, moving day can be a chaotic and busy time. However, there are still a number of things you can do to maintain productivity and help things go more smoothly. Thus, you may want to hire a team of skilled and many-year experienced moving specialists. They will do all the job for you so that you could focus on more important aspects of your relocation.
Hiring expert movers allows you to relax and take it easy on a moving day. But by no means is this the end of your duties. It will go more easily if everyone knows their roles on a moving day.
What to do when organizing a move: tips and advice
The first and most important thing to do on moving day is to be at your house. Find a trustworthy friend, neighbor, or family member who can stand in for you if you are unable to be physically present. Make sure they can be reached all day and will be there to do the chores and answer inquiries from the movers.  Someone else should be able to get in touch with you if an emergency arises.
It is easy to multitask while movers take care of your relocation, but it is still crucial to keep an eye on things to ensure everything goes smoothly. Keep in mind the following things you can do:
Supervise the process.
Be open to communication.
Organize utilities at your new home.
Be open to changes.
It all depends on how much stuff you have to move and how hands-on you want to be. A smooth move requires a balance between keeping an eye on everything and getting other things done. Here are some more tips on what to do on your moving day.
Clear the path for movers
Before the movers arrive, walk the route they will take to the moving truck from each exit, such as the front door, garage door, and backyard gate. Get rid of anything in the way, such as the garden hose or the kids' toys. Shovel the snow if it is snowing, and salt the walkways if there is ice on the surface. Leaves, broken branches, and other path obstructions should be swept or blown away.
Maintaining the accessibility of the path is crucial during the day. Especially while lugging heavy items like refrigerators and couches, movers' lines of sight can be obstructed. When helping with bulky or awkward goods, they may even have to walk backward. Therefore, it is essential that their path remain secure and free of obstacles.
Be ready to provide assistance if necessary
Expert movers know the best ways to pack fragile and bulky things to ensure they arrive in one piece. Do not give in to the temptation to help if you can help it. Do not interfere; the movers only doing their job. Instead, make yourself available to address any concerns that may arise. Make sure they have your contact information in case you need to go out for a moment to run an errand, grab some lunch, or chat with a neighbor. When the movers are done loading the truck, give them the correct address of your new home and clear directions to get there.
Occupy your kids
Make sure the youngsters are occupied elsewhere while the movers are packing and loading the truck. Have a friend or family member look after them if you do not have the opportunity. If you cannot find anything to do with them, pack a backpack with activities like coloring books, favorite toys, books to read, playdough, and crafts. Then, take breaks to watch or play your entertainment of choice. Tablets and other portable electronic gadgets can also be used.
Pets are the same way. Make arrangements to leave your pet at a kennel. If the walls are down but the gates and doors are open, they can easily escape. You might also ask a friend to look after your pets while you are away. Put your pet inside a secure container or kennel. Give them plenty of drinks and frequent breaks in the fresh air. Do not forget to feed them if moving day coincides with mealtime.
Cleaning the old space on moving day
What you can do while movers are occupied by packing and preparing your personal belongings for the move is cleaning your house or flat, and thus prepare it for the new tenants. While cleaning, make sure to focus on the areas listed below:
Clean the sink, shower, and floor.
Cabinets, glass, and mirrors should all be wiped clean.
Take your stuff and get rid of anything you do not need.
Clean up the dust on the shelves, the counters, and the light switches.
The oven, the fridge, and the dishwasher should all be cleaned.
If the walls have any stains, you might want to think about giving them a quick coat of paint.
Spending some time and energy cleaning your old home can help you leave it in good condition for the next tenants, who will appreciate your consideration.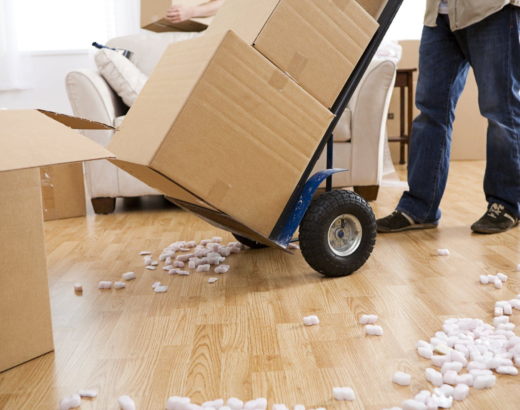 Benefits of hiring experts from a reliable moving service
Apart from being able to focus on more essential aspects of your upcoming move, hiring experts from a reliable moving company zeromaxmoving.com has many more advantages. Whether or not you are moving locally or over great distances, you will appreciate the effort experienced movers will put into your relocation.
Depending on your unique situation, movers may provide a variety of services. Depending on your needs and budget, you can hire movers who will do everything for you, including packing and unpacking. With so many options to choose from, a moving day may be tailored to each individual's needs. Moreover, hiring experts from a moving company with positive reviews will help you alleviate unnecessary stress associated with the moving process. You can relax and focus on other elements of the relocation, like getting settled in your new home, if you hire skilled specialists to handle the logistics and heavy lifting.
Professional movers are trained to efficiently load the vehicle with furniture and other belongings. It would take you longer to pack, load, move, and unload everything than it would take them. Hiring knowledgeable movers frees you up to deal with the more pressing matters of the move, knowing that the important aspects of moving will be taken care of by someone with a great experience in this field. Make sure to find a reliable moving company with transparent fees and affordable moving services to ensure a stress-free relocation