Bathrooms traditionally were spaces where you would like to use darker colors. This might be due to different reasons. Constant exposure to water and froth might harm lighter colors. So, they may fade. Hence, there are high chances for the plaster underneath to come out on the surface. So, a grey bathroom has always been extremely common. Therefore, colors like grey become very practical for use in bathrooms. It fits in perfectly. So, it is not as dark as black. Therefore, it does not absorb much light and make the space look dark and dingy. Moreover, it is not as pale as white or maybe yellow. Hence, it does not become dirty easily.
Another advantage of a grey bathroom is that the damp spots do not become very prominent. As we all know, unless we are living in a really rich apartment or house, bathrooms are generally very prone to damps. These damps may occur both on the walls and on the ceiling.
However, a grey bathroom is not so popular only because it is a very practical option. Grey is a very calming color. So, after a long day at work, when you come home, sit inside the bathtub and close your eyes, it gives you just the perfect vibe. There can be some lights and that is it. During such cases, a bright pink or a lemon yellow would not comfort your eyes in any way. Moreover, a grey bathroom can be very stylish too. So, all you have to use is proper lighting and sanitary fittings. It might look really regal. A grey bathroom can act as a great contrast to a vibrant room.
Read Also: Clock Table Lamp, Numbers for Wedding, Furniture Village, Radio
As per current trends, people are shifting to bluish bathrooms or those with wooden finishing. However, a grey bathroom stays. Here's how.
Grey Bathroom Tiles
There can be different grey bathroom ideas. However, the main grey bathroom ideas rest on the tiles and how you are using them. Tiles, in fact, are important for any bathroom design. So, at first, have an imagination regarding what exactly are your grey bathroom ideas. After you have a picture in mind, go to a store and select the tiles. You have to select tiles differently for both the walls and the floor. However, if you are looking for a more unified outlook, you can choose the same kind as well. White and grey bathroom ideas look really great. So, it is not just very stylish but as you have already seen, the neutral color is great for relaxing after stress. When you choose the tiles, you might want to add a little wooden tone and greenery as well. This, hence, would give an overall peaceful vibe.
Grey bathroom tiles again come in different shades. So, it is again important to keep in mind how you want your bathroom to look. If your grey bathroom ideas are ones that are rich in tones, you might go for dark grey tiles. So, they would make your grey bathroom very dramatic as well as stylish. You can use dark grey tiles like Puro Grey tiles. So, if you are using them on the floor they look both very expensive and elegant.
Grey Bathroom Tiles Texture
So, as we have already seen it is vital to keep in mind the overall look of the bathroom. If you want the tiles to be very long-lasting, the ideal choice would be porcelain tiles. Now, porcelain tiles are a little costly. However, it really pays off. They are available in a wide variety of colors. However, for your grey bathroom ideas, the closest color should be marble. You can, however, also use some wooden ones. This would give your grey bathroom a stony finish. As per your taste, you can choose either matte tiles or those with a high gloss.
You can also go for ceramic tiles. They have the same constituents as porcelain tiles. However, they are less finely ground. So, this means that they are not as resistant as porcelain tiles. They are less costly but also less water-resistant. However, if your mason cam seals the tiles properly, it will not at all be an issue. Moreover, they are very easy to maintain. So, you can give your grey bathroom a posh look while also keeping it within budget.
However, if your grey bathroom ideas are very luxurious, there can be no competition with marble tiles. The classic stone texture blends really well with any kind of decor. So, whether your grey bathroom ideas are traditional or modern, you can never have many marble tiles!
If you are looking for a cheaper alternative, you can go for mosaic tiles. This way you may have patterns in your grey bathroom. The tilling materials can be various like glass, marble, and ceramic. These are tiny pieces. So, you can ask at the store to make a special combination that would reflect your choices. Mosaic tiles can be great for creating a statement in your grey bathroom.
Grey Bathroom Tiles Design
Grey Bathroom Ideas have a wide range of designs that you can opt for. The first step is already the selection of the texture. So, once you select the texture of the tile, you are already creating the base of the entire design. For example, if you choose a marble tile, the classic marble finishing will already be the basic design of your grey bathroom. So, you might choose tiles that are absolutely plain in design. You may want to introduce geometric patterns as well. In that way, you can make your grey bathroom ideas very innovative as well. Coming to patterns, however, geometric patterns are not the only options.
So, it depends a lot on your kind of choice. You might have options of intricately designed patterns. So, if you have a very luxurious outlook, this might be it. In that case, your grey bathroom must not at all be a sham. It definitely is elaborate and very ornate. In such a case intricate geometric or floral patterns would fit in very well. This is because as your entire outlook would be very ornate, the tiles would not look out of place.
However, if you are having an overall minimal grey bathroom idea, ornate tiles at all would not go very well. This is because the design of the tiles would stick out and arrest extra attention. So, supposing you have rich sanitary fittings but less in number, ornate tiles might not be the best option you are looking for.
Moreover, there are various finishings you can select. These add significantly to the look. You might choose eclat, glossy, matte, satin-matte, lappato, rustic, and so on. If you are using vitrified or glazed vitrified tiles, it would matter. These too add to the look of the tiles.
Grey Bathroom Floor tiles
For floors, you might or might not want to choose the same tiles which you have chosen to match with your grey bathroom ideas. So, this is because of a number of reasons. Firstly, if you are not staying at a cold geographic location you might not prefer to use a floor tile with a very glossy finishing. This is because bathrooms are places where we use a lot of water. So, water and glossy tiles might not be the best combination. There might be chances that you can slip off as there might be both water, soap, and froth on the floor.
However, it is true that glossy tiles find wide use in the floors of a hotel or office bathroom. But, it would not be the best idea if you are making the bathroom for your home. Safety, no matter what, must come at first- even before the sense of beauty which originates from your grey bathroom ideas. You might want to choose matte or lappato finishing. In that way, it looks good as well as safe.
However, if you have a higher budget, you might go for satin matte. Satin matte looks very beautiful with ornate bathrooms. So, if your grey bathroom is elaborate you might go for it. Moreover, satin-matte is a kind of tile that comes between gloss and matte tiles. So, like glossy tiles, they are very easy to clean and maintain. On the other hand, because they have the matte element, they are much less slippery than glossy tiles.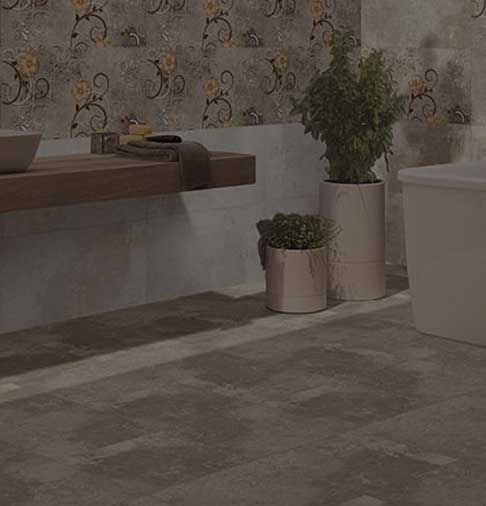 You might use lappato tiles as well. So, these tiles are basically porcelain but they are polished. So, these should add to your grey bathroom both safety and style. And rustic tiles, of course, would give you the classic Italian appearance.
Grey Bathroom Accessories
So far we have been talking about the floor and the tiles. These do form an important part of your grey bathroom ideas. However, one has to remember that these are just the background of the bathroom design. How a bathroom would look depends a lot on what accessories you are using and how you are implementing them throughout the bathroom.
Grey Bathroom Sanitary Fittings
From the article, it is quite visible that the initial grey bathroom ideas are very important while selecting every material, even when you have completed doing the background. Now, you cannot have multiple images in your mind. Stick to one, and then go to the store, or for the interior designing. The color that goes best with grey is white. So if your meter in the bathroom is chiefly grey, you can accessorize it with white fittings. You can find fittings in various price ranges. So, here, both your budget and space matter. For example, if you have a bigger space, you can go for a white bathtub, with steel taps and pipes and glass cabinets. If your space is smaller, implementing a tub would not be the best idea. You can use steel taps, showers, and other fittings. Additionally, you may use tile slabs to place the products.
Grey Bathroom Decor Items
So, the kind of items you will use to decorate the bathroom depends on whether you want a minimal or an elaborate look. If you are into minimal design, then you can simply place your products on slabs and have a mirror. So, you can put the mirror simply on top of the washbasin. If you have the space, you might use one that would occupy half of the wall. Along with this, you can buy stone, ceramic, or glass soap cases or hand wash, or toothbrush holders. Washbasins are also available in various shapes and materials. So, you do not need to adopt the classic white one. You can match up the basin color and material with the holders. On the other hand, for an elaborate bathroom, you will need more items. So, you can use an elaborate dresser, with lights and storage for stuff like candles to relax.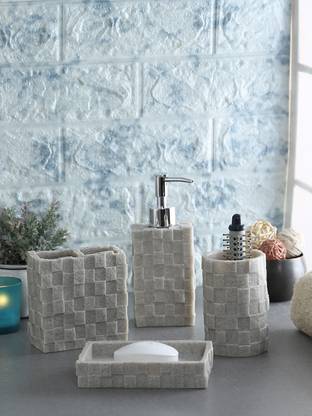 Grey Bathroom Ideas
So, by the perfect mixture of tiles, floor, and accessories, you can have a lot of grey bathroom ideas. Therefore, a perfect combination is all that matters. Make sure you place your accessories, and lights in such a way that they do not mess with your natural light. If your bathroom is large and you have a good glass window, do not overuse the space. Empty spaces have their own beauty. Moreover, you can always add some greens to make the vibe lively. You can place small pots of succulents on slabs. Or, you might use money plants as well. However, make sure, whatever plant you are keeping, must need less to no light for surviving. This is because your bathroom will always be a damp space. If you are using plants, make sure you bring them out in the sun once in a while.
You might contrast the walls with wooden or black furniture and fittings. In case you opt for wooden fittings, it would look great if you give the floor a wooden finish.
Grey Bathroom Ideas 2021
In current times, sophisticated and minimal designs are on the rise. So people who have the means are buying less but costly fittings and furniture. Therefore, this adds a class to the bathroom. The very beauty of minimalism is keeping a lot of space and allowing a lot of air. Hence, there must be no unnecessary items. The vibe is peaceful, relaxing, and very calming. Along with this, a little green here and there may make it very fresh and lively in total. For smaller spaces, one can go for more chic designs. This would help them with everything essential in a small space and give an eclectic look.
Grey Bathroom Ideas FAQs
1.   Is grey good for bathrooms?
Grey is great for bathrooms. For modern bathrooms, you must try paler shades of grey with black and for a cottage vibe, you might go with lighter shades and more woodwork.
2.   Are grey bathrooms outdated?
No, not at all. Grey bathrooms are never really out of fashion. Their popularity only increases.
3.   What color towels go well with grey bathrooms?
You can try any dark shade- teal, turquoise, navy or accent towels too.