So, a kitchen diner is a space where you cook as well as eat or dine. Therefore, it is technically the kitchen. However, since you do not have a separate dining room for space shortage, you dine there as well. The concept of a kitchen diner has been always famous in Western countries, in apartment flats or small homes. However, in oriental countries, it was traditionally rare. This is because you mostly had joint families and dinner was an important ritual. So, everyone met for the day and had their verbal exchange. However, those are long gone times. These days the western idea of kitchen diner is coming everywhere. This is because now with nuclear families you live in small flats and face a shortage of space. Moreover, land and home have become increasingly costly. Buying a large home is a luxury many cannot afford.
Why is planning a kitchen diner important?
Designing kitchens is a large industry all over the world. Planning is very important when it comes to a kitchen diner. This is because it is a small space. You have to do a number of activities here. So, you have to cook, you have to eat, and also wash. Therefore, if the layout is not proper, it might be a complete mess. Moreover, you also need to ensure that one activity does not come in the way of another in your kitchen diner. So, this means if you are cooking, you should still be able to sit and dine or wash your plates.Read Also: A Step by Step Guide to Remodeling a Kitchen
Moreover, in flats these days, you get something they call an open kitchen. So, the kitchen is not a room. It is just a space of the hall or dining room but has a partition. Now, this is something very popular these days. So, this is a kind of a kitchen diner as well.
Kitchen diner Layout
The first step at organizing your kitchen diner is imagining how you want your space to look like. So, first, you must have your idea and only then go to an architect to put it into realistic use. Planning, as we have already seen, is crucial. The very idea of a kitchen diner is that you should not be bored while cooking and must have people to communicate with during cooking. So, it must be your comfort space. Therefore, plan it in that way. However, there are six basic layouts of kitchens. These are scientific and hence you have to choose any one of these for your kitchen diner as well. It is because at the end of the day it is still a kitchen. There are questions of waste disposal, water drainage, and so on.
One-wall kitchen diner
This is also what we call the Pullman Kitchen. You will find this mostly in studio apartments or loft spaces. It saves massive space. So, in this kitchen diner, you place the cabinets and electronic devices on a single wall. Modern designs of a kitchen diner also include an island. So, this elevates the space into a kind of gallery that has a walk-through corridor.
Galley kitchen diner
This kitchen diner has a lean layout. It is also ideal if you have major space constraints and are looking for a one-cook kitchen. It is also what they call a walk-through kitchen and has two walls. So, these walls are opposite to each other with a walkway in between them. A galley kitchen diner makes use of every bit of space inside it. There is no scope for cabinets. However, given its congested nature, the galley kitchen would not be ideal as a kitchen diner.
L-Shape kitchen diner
This is probably one of the best kinds of kitchens because it is airy. Moreover, it is also very suitable as a kitchen diner as there is enough space. This kitchen diner aims at utilizing the most of corner spaces and works for both small as well as medium-sized kitchens. So, it has two walls that are perpendicular to each other. There are countertops on both. Moreover, you can elongate the leg of the "L" as long as you want to but keeping it between 12 to 15 feet will be the best idea. So, you must put your dinner table at the base of the "L". These kitchens are the best way to eliminate as much traffic as possible in the kitchen. Moreover, you can accommodate a large dining table and multiple cooks can work at the same time.
Horseshoe kitchen diner
This is again a kind of kitchen that you can very well use as a kitchen diner. It has a U-shape like that of a horseshoe. Therefore, there are three walls where you can place both your cabinets and appliances. It is from this design that the L-shaped kitchen diner takes birth. In the second case, the third wall forms an island. So, this is again a spacious layout and you can make a good dining space as well as accommodate multiple cooks simultaneously.
Island kitchen diner
Now, this is again an ideal kitchen layout that you can turn into a perfect kitchen diner. So, a proper kitchen island has both electrical devices as well as cabinets for general storage. The best part about this layout is that you get a lot of surfaces to work in in the kitchen. As for the kitchen diner, you can arrange stools. Moreover, it allows enough space to prepare and wash food with a sink. This kitchen diner also has a wine cooler to store beverages.
So, the presence of this island can transform your entire layout of the kitchen diner. It can make a one-wall kitchen a galley one. On the other hand, it can transform an L-shaped kitchen into a horseshoe one. Island kitchen diners help you a lot with traffic management and work. But, everyone cannot have it. This is because you need to have enough free space to have this feature that most of us do not have.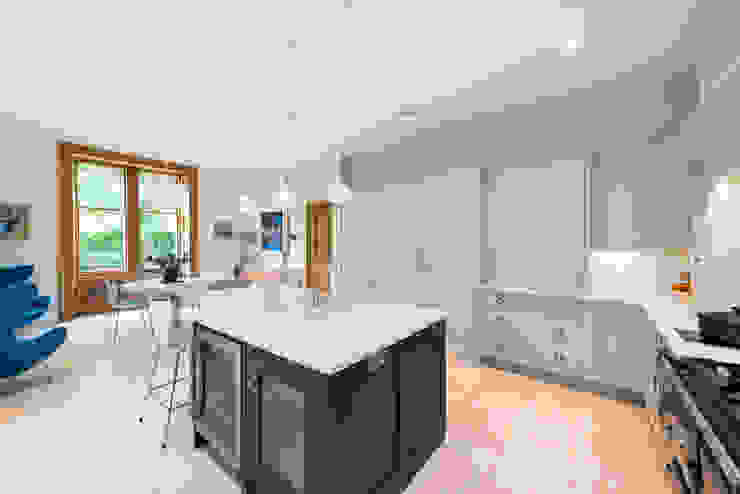 Peninsula kitchen diner
This kitchen diner is a connected island. So, it converts an L-shaped kitchen diner into a horseshoe layout. On the other hand, it turns a horseshoe into a G-shaped one. Peninsulas work just like islands. However, they give much more clearance than islands can. Moreover, peninsulas are a great idea if you do not have the proper square that is necessary for a proper island.
Kitchen diner extension
AN extension to a kitchen diner is a great idea. So, you can have a lot of space when you organize a house party. Moreover, if you really have a small space, a kitchen diner extension can be helpful in many ways. However, it is not always possible to have an extension. So, after you plan to have one, go to your architect and discuss the possibility of it. If you have the necessary conditions, you must go for it. In most cases, you do not need to have special permission for doing an extension. However, still check the legal demands that bind you.
Creating an extension will help you give a hall-like look to your kitchen diner. So, you can at once cook, eat as well as use the extension as a lounge area to relax. Therefore, mix different materials to create a multipurpose space. Put a few plants, some cabinets here and there for decoration purposes, and so on. Moreover, if you put a glass partition to the extension, you can allow a lot of light to come in. So, this makes both your kitchen-diner as well as the lounge area warm and lively. Moreover, you can also use a side-turn to double up the size of your kitchen diner.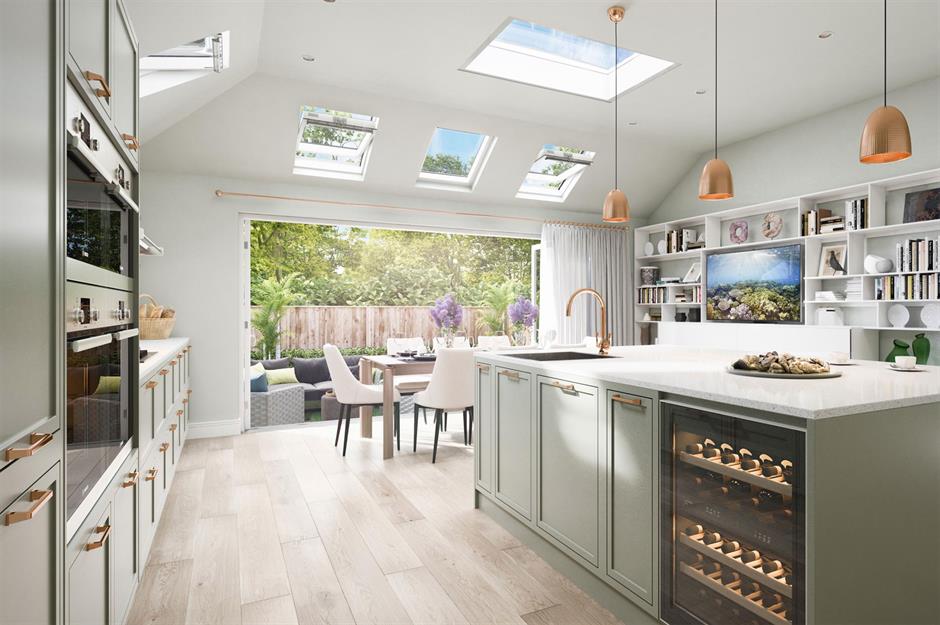 Kitchen diner designs
The first thing you must remember while designing your kitchen diner is how much space you have. So, the next thing you need to remember is the layout that you have already chosen for your kitchen diner. The way you will design the kitchen depends on the kind of space you have.
So, if you have a one-wall kitchen, you can have a dark color tone to the wall. Now, place wooden or metal cabinets on the wall depending on the vibe you want to have. On the lower, more sturdy ones, place your appliances. So now, make the top ones closed storage to keep your containers and stuff. You can have a wide and long stone counter. So, you can cook on this, keep things for daily use, utensils as well as wash. On the other side, you can keep a dining table. However, a long dining table will be better than a circular one.
In case you have an L-shaped kitchen diner or an island, you can place your appliances and storage on the legs. In the conjoining part, you can have both the kitchen as well as the dining table. However, place a nice wooden or cement partition where you must keep your oven. Select a neutral color for the entire space to avoid giving a congested look.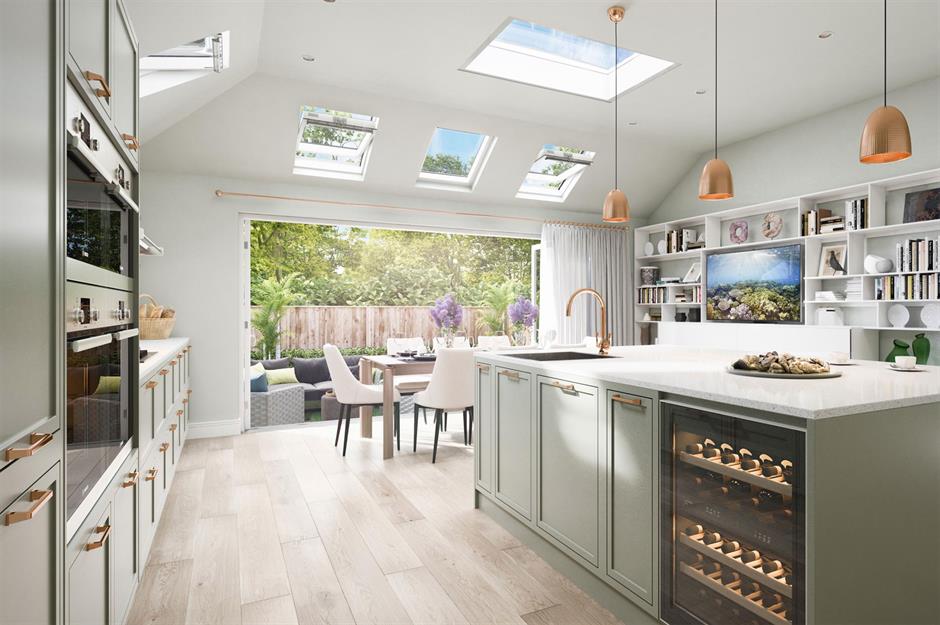 Kitchen diner decor ideas
If your kitchen diner has considerable space, you can decorate it really well. If you are going for a wooden table, place it in the center of the island. So, on the tabletop, you might want to keep a vase or a bowl of fruits. On the walls, along with a family photograph or two, use up the space by showing all your fancy coffee mugs. You can also have a wood and glass cabinet and put all the china and serving bowls and so on. Therefore, this would give a heavy look to your kitchen diner. You can also place a plant or two on the corners, or hang them down the walls. Moreover, if you are having an extension, place a comfy sofa, some lights, and some plants to complement it.
However, if you have a small kitchen diner, avoid unnecessary clutter. Go for sturdy wooden storage, and keep a long wooden dining table on the opposite side of the oven. So, keep it minimal with neutral tones else it will look ugly. Too much decor looks really bad if you do not have enough space to accommodate it. So, invest in the furniture and cabinets only.
Kitchen diner lighting
There are a few basic ways to light up your kitchen diner. So, you can have lights on the partition that separates your kitchen from the dining table. You can have in-built LED lights as spotlights on the partition. However, you can make the lights a statement in your kitchen diner. So, you can hang them down. There are various styles available for hanging lights. So, go to the store and select the design that suits your decor the most. However, since the space is also a kitchen, it is better if you hang down lamps in minimal metal structures. So, that way, you are both lighting up as well as stylizing.
On the other hand, you can hang down lights or a chandelier over the dining table too. However, you can be a little fancier with these lights since there is no heat or fire here. But, this is possible only if you have a bigger kitchen diner otherwise the kitchen lights should suffice.
Kitchen diner flooring
For a modern kitchen diner, you can go for porcelain tiles. These are waterproof. Moreover, they also resist stains and scratches. Therefore, these might be ideal for a space where there are high chances of food spillage. However, if you want to give your kitchen diner a luxurious look, go for wooden laminate flooring. Moreover, if your budget is tight, you can just have cement flooring as well. It will not look very good but will work.
Kitchen diner knock through
So, in most cases, you have a kitchen diner by going through a knock-through. However, this is not applicable to you if you are moving to a new flat which gives you this option of open space. However, for renovating, this is a great idea. So, this involves breaking down the wall that separates your kitchen from the dining or the drawing space. Therefore, it gives you a lot of space. It is also important because compartmentalizing reduces light and makes the spaces dark. Moreover, a separate kitchen and dining space are unnecessary and troublesome.
So, if you break down the wall, you can have all in one a kitchen, a dining room, and a drawing space. Therefore, the space would be airy, have a lot of light and you can utilize it properly. Compartmentalization often results in a lot of space that we cannot use properly.