A kid's room is basically a place where child's spend most of their time and learn many things. Moreover, a kid's room is not the same as an adult's room. There are many ideas for decorating a kid's room. It is very essential to decorate the kid's room perfectly. A good environment room makes a kid's mind fresh. In this article, I will give you many good ideas that will make your kid's room great.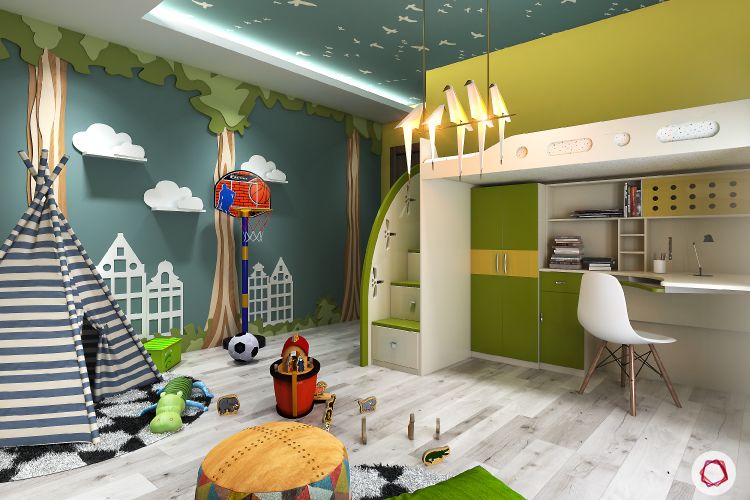 Kids room wall decor
First, we need to paint the entire wall of the kids' room. If your kid's room's division is in excellent condition, then you can wipe the partition to remove dust. Now we need to take a little paint and a sponge with a handle. The sponge will make your job so much easier. However, you can use a regular sponge, cut it in a circular shape and start painting. Now take out extra paint with the sponge and press it gently into the wall and rotate. If you decorate your son's room, go with a triangle or plus shape to paint the wall.
Kids room wallpaper
Kids' room wallpaper is very essential for making your kid's room better. You can buy cute cartoon wallpapers, and those wallpapers should be green or other bright colors. It makes your kids' minds happy, and it will attract them very easily. Also, when your kid sleeps in their room, they are never scared. If you don't want to spend money on buying wallpaper, you can paint cartoons yourself on the wall.
Kids room furniture
After we finished the wall makeover, we went a little overboard with polkas and tried to give a new look to the plastic chest of drawers. Suppose you can use a plastic chest of drawers for kids' room decoration. For any room makeover, invest in some budget-friendly storage solutions to keep your room neat and clean. Moreover, you can give a makeover to your existing furniture. For me, I have a vast storage cabinet, and it needs a severe replacement or makeover, which I thought I could do. We can purchase the wall tackle mermaid and water animals because that's what kids like most. Now we have to start putting them together. It will change the entire look of the cabinet.
Girls bedroom design
To give a fresh makeover to any space, bedding plays an essential role like bed sheets, curtains, cushion covers etc. It's always a good idea to shop when the sale is on. If you have an old mattress, you should change it because it does not give much comfort.
Kids room decorating ideas
To give a new look to the kid's room, we can change the existing hardware. We can replace the cabinet knobs with different cute knobs. Moreover, it will be easier to handle the cabinet door for kids. If you don't want to invest, then as a budget-friendly option, paint your cabinet knobs or handles.
Kids room decor items
If you have a daughter and want to surprise her within budget, definitely add a canopy above her bed. Kids love decorative lights, and you can buy a table lamp and cloud wall lamp for kids room makeovers. Now, the cloud one acts as a light lamp at night and gives a very soothing feel to the entire room. We can also install shelves in the kid's room; this shelf holds those books that kids love the most. Therefore, we can paint it in white so that those colorful books will pop nicely.
However, we can use a wall shelf, and this one is to store all kids toys which kids like or play with. The rest of them go straight into the basket. This way, you can control the toy clutter in the kid's room.
Kids room decoration
The first one is the pom-pom garland. Now, we need to take colorful wool and wrap it around your finger. Then tie it in the middle and cut those loops. Next, the pom pom is ready. Now we will make the garland.
The next one is the Popsicle pipe. So, we need to cut cardboard in a circular shape and take the Popsicle sticks to make it look like a sundress. You can find these popsicles in any craft store. Then we can write any beautiful text in it.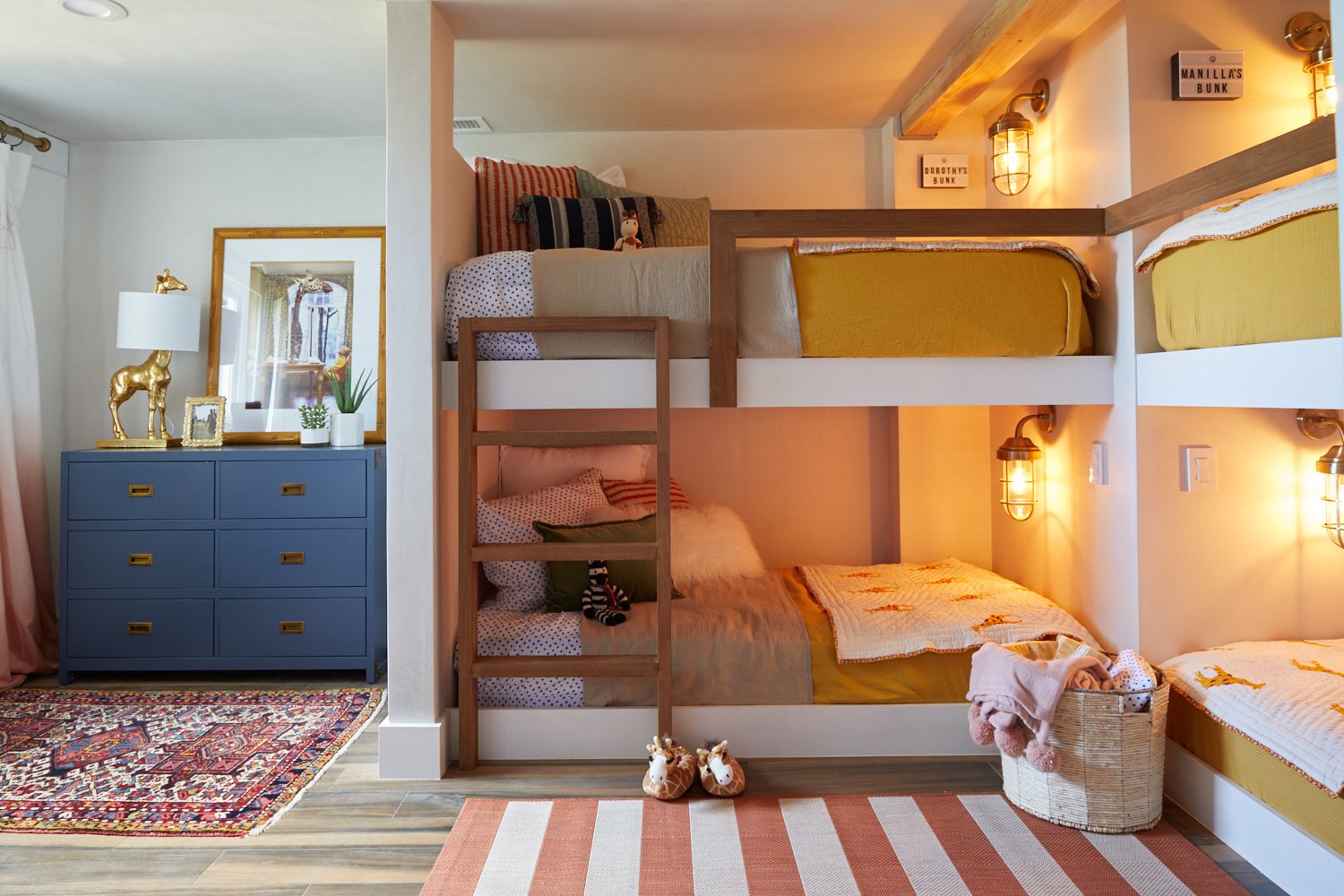 We can decorate any kind of basket with a pom to add a new look. We are going to need small pom balls, and we have attached them with double-sided tape instead of hot glue. So in future, you can repurpose the basket.
For the next accessory, we need to use two framed canvases. For me, I'm going to use the leftover mermaid wall decal and place it in a way so that it looks like it is connected with the other frame. Next, we need to cut cardboard in a round shape, and we have pasted the canvas pad on top of it to achieve a nice look. We can paint it in black with acrylic color. Then we pasted the wooden figurines on the board. Also, you can add cute paper flowers to it.
Kids room interior design
Usually, in the bedroom, the bed takes most of the space. A child's room is not the same as an adult's. A children's room is not like an adult bedroom. It is a room where children not only rest but also study, lounge and play. Moreover, the clean and classic bunk bed is a great solution, and placing it in the corner opens up the room. Now, this works nicely if your child's room is shared by siblings or if he or she has a visitor. Next, they might squabble over who gets the top bunk. However, I believe that the issue may be resolved.
Kids bedroom design
While children may read on a bed or in a chair on occasion, a study table allows them to be more focused and organized. Buy a table that is a neutral color that goes wonderfully with the bunk bed. It will have a dedicated desk where your child can study or use the laptop. It also has nifty drawers and an open shelf on top, where you can organize your child's stationery and books beautifully. I feel that the room is shaping up nicely as we have placed a lot of neutral pieces of furniture around. I think now it is time to play with some fun colors and elements.
Another way to introduce color in your kid's room is through a cabinet like this. It is specifically designed for kids. The combination of open and closed shelves in the cabinet makes it exciting for kids to store their favourite dolls, cars, storybooks or even games. The bright block colors add so much life to the room, and they are gender-neutral. So, they equally work for boys and girls. This room has a lot of open spaces, light yet studies furniture and a lot of fun movable elements like the floor cushions that give your child the space to grow, explore and rest.
Kids room design for boys
We can choose the drawer over shells in its closet as it is easy to segregate and organize the kids' different cloth types. Another major advantage is that even if a particular drawer gets messy, it does not affect other storage spaces. Also, a messy drawer does not turn into an eyesore in a close position. Below the cupboard, we got jumbo drawers made to store toys. These drawers are big enough to store big bulky toys, which are hard to organize.
Now for bed, you can use the queen bed, which is closed from three sides. We should make the bed's head and footboard a little higher to act as a rollover barrier for kids while sleeping. We can use a fitted bed sheet on the bed. Your kid and his friends love to play in the room all day long, and despite that, the fitted sheet always stays intact. The bed has shelves on the headboard to store a few bedtime essentials at the bottom of the bed's foot, where he keeps some of his toys and books. This bed does not have storage below but a trundle bed, which is very useful, especially when guests visit home. You can use a colorful mat that will look good, and hopefully, it prevents noise to the flat below whenever the kid plays with his toys on the floor.
Now, you should buy a study table. The study table made its worth felt during lockdown when everyone needed a place to work and study. Also, you can put a scribble board in his room. He and his friends can use it for scribbling, sketching and pretend plays. This is one of the very simple tools that kept him and his friends busy.
Kids room wardrobe
Children's wardrobes are quite prevalent in the twenty-first century, but having designer wardrobes in everyone's home is also essential. You can buy a cute small wardrobe for your kid. The color of the wardrobe should be colorful because it will attract kids too much. Next, you can also paint some cartoons on the wardrobe. The boxes in the wardrobe should be up to five.
Layers of enjoyment should be created. When the ceiling height permits, a play bunk can be added to a child's room to improve the play area. However, the amount of accessible vertical space is increased with this low-floor bed design. Above, a modest ladder leads to a social space and a cozy reading corner.
Frequently asked questions (FAQs)
How can I decorate my kids' room?
Suppose you can use a plastic chest of drawers for kids' room decoration. For any room makeover, invest in some budget-friendly storage solutions to keep your room neat and clean. Moreover, you can give a makeover to your existing furniture. For me, I have a vast storage cabinet, and it needs a severe replacement or makeover, which I thought I could do.
How can I make my kids' room enjoyable?
Make racks for your footwear out of discarded pallets.
Paint a wooden branch and use it to hang drapes on.
Skateboards may be used as shelves.
Imaginative wall art for a child's room.
Make a bed out of discarded pallets.
This is an excellent method to keep your kids' socks organized.
Create a drawing board.
Indoor teepees with cushions are adorable.
Make some adorable toy wall boxes.
How do you set up a kid's room?
Setting up a children's room may be difficult since it is dependent on a number of things. Moreover, it's critical, for example, to consider your child's age. You'll have to adjust to their changing preferences. Therefore, ample light to keep spirits up, ample floor space for easy mobility, and a storage place to keep clutter at bay are all must-haves for every child's room, followed by a study area, bed type, and wall color. Next, decorate the space using items that can be switched or altered easily. So, this will make it easier for you to make modest adjustments as they become older.
How many toys should a child have?
A recent study revealed that when toddlers had fewer toys in their surroundings, they played with each object for longer, allowing them to focus more and play more imaginatively.
How can I make my child's room feel cozy?
Soft blankets and large cushions that the youngster may embrace at sleep are also excellent choices. Soft and comfy bedding and carpets are essential. Including family, photos will help the kid feel secure. A teepee or canopy may be a great hiding spot for kids to read books, play games, or snooze.
How can I make my room less scary?
Have a comfortable bed with clean, soft sheets and warm blankets. For added comfort, keep your favourite stuffed animal or unique blanket in your bed. If you like, you can set a night light in the hallway or in your bedroom. So that it doesn't disrupt your sleep, ask for a special night light that turns off after a time.
What should be in a toddler's room?
A bed with side rails is a must.
Clothing storage space.
A place to keep toys.
A place to keep books
A table for arts and crafts.
A desk with an appropriate chair.
There is plenty of space to play.
Child-resistant products, such as socket covers.
A baby monitor.
Larger toys, such as a tent or a doll's house.