The HVAC system regulates the indoor climate, including the relative humidity and air quality. With this, you and your family can live comfortably inside your house, regardless of the weather outside. 
However, HVAC installation entails a technically complex operation and can be risky if not performed by qualified professionals. And improper installation can result in higher energy costs, shorter life expectancy, and discomfort. 
It's important to remember that an HVAC system is a big financial commitment. If you want to get your money's worth, you need to choose a reputable HVAC company that can provide you with quality service. By doing so, you'll feel more relaxed and at ease knowing that your system is being handled by experts. 
However, knowing which HVAC company to choose from can be challenging. So, use the information below as a roadmap to find the right one for you. 
Look For Company's License And Certifications 
You should always ask for an HVAC company's license to ensure they have the proper credentials to work on your system. This shows that they've completed the state exam confirming that they're well-versed in all relevant building or mechanical regulations, fuel codes, electrical wirings, circuits, and so on.
Furthermore, it's good to see whether the company's technician is NATE-certified. This means they've been trained in the best practices for HVAC work and can ensure reliable results. Dr. HVAC, for example, hires NATE-certified technicians that have undergone extensive training and education. 
The North American Technician Excellence (NATE) certification is universally recognized as the gold standard for HVAC service technicians and installation. This way, you know you're dealing with a reputable business that cares about its clients' satisfaction. 
Ask For Referrals And Read Customer Reviews 
It might take a lot of time to compare available HVAC companies. Therefore, it's best to seek input from those you know and trust to narrow down your options. They'll be able to provide you with objective reviews on the HVAC business because they've used their services personally. 
Furthermore, you may want to check out user feedback on independent review sites for more information. By doing so, you may learn whether or not the general users are satisfied with the company's service. 
You could also look at the rating they have received online and only consider an HVAC service with 4.5 stars or more. 
Inquire About Company's Insurance 
The HVAC business presents a distinct risk for contractors. Accidents are always a possibility, given their work with fuel, electricity, and circuits. HVAC companies need sufficient insurance to mitigate the effects of such dangers.
A professional HVAC business will carry general liability insurance when protecting itself from lawsuits alleging physical harm or property damage. 
During an installation, if one of the technicians accidentally dropped a heavy tool and caused damage to your property, the HVAC company's insurance would cover the cost of repairs. The same applies if a contractor causes harm to a member of your family. The company's insurance provider will cover the medical expenses in this scenario. 
Check If The Company Conducts On-Site Visit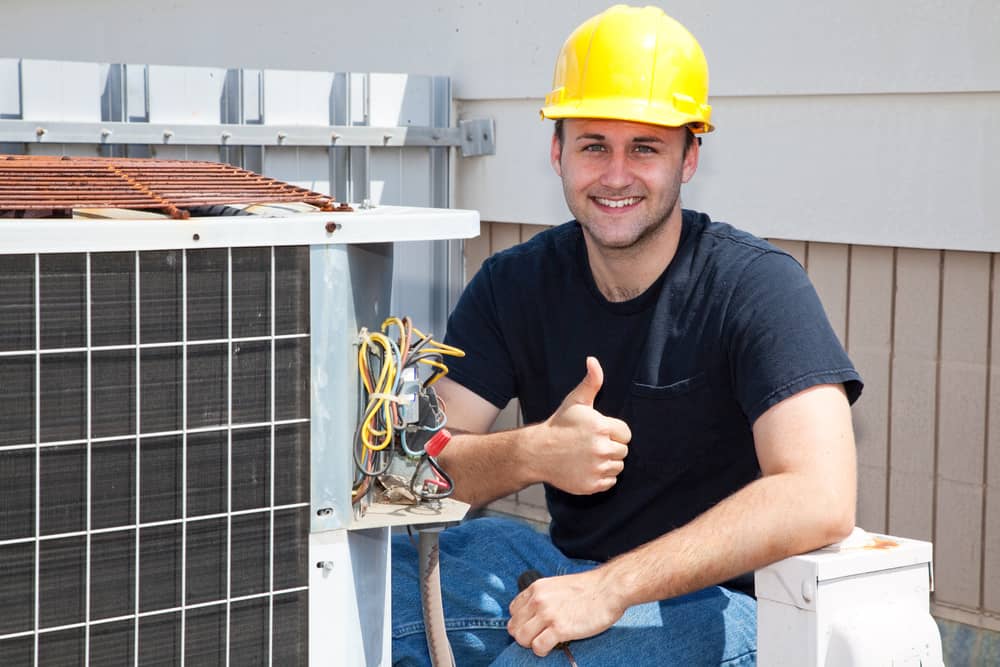 Remember that a house evaluation isn't a perk but a necessity. For accurate measurements and a thorough assessment, a company representative will personally come to your house to inspect it. In case of HVAC system replacement, the contractor will check the existing setup and advise you on a new system tailored to your needs. 
It should raise red flags if an HVAC provider doesn't offer in-person consultations. Cross that off your list, as it demonstrates that the firm is untrustworthy. 
Ask Company For A Detailed Estimate And Compare Prices 
Make sure you have a formal estimate that details all the work that will be done on your HVAC system and the associated expenses. Keep in mind that any professional firm will give written documentation of their pricing and terms.  
Those that provide phone estimates in the absence of any written documentation are considered unprofessional. And if something goes wrong with your HVAC system, this contract isn't valid and enforceable and might cost you money. Having written estimate can further demonstrate that the organization is trustworthy. As a result, no hidden fees will arise. 
Since most HVAC service providers offer cost-free price quotes, it's wise to take advantage of this and check out the competition's pricing. Compare factors like prices, promos, energy efficiency, and warranties. Always remember that purchasing a new HVAC system is an expensive investment, so ensure you get the best price possible. 
A word of caution: the cheapest option isn't necessarily the best. Although a low price may seem appealing at first, it might turn out to be the result of using low-quality materials. You might have to replace them soon, which will cost you even more money. 
Only Choose Energy Stay Systems 
Purchasing an HVAC system is a big financial commitment; thus, investing in a model that uses as little energy should be your choice. Only HVAC systems that have earned the Energy Star label meet the stringent energy efficiency criteria in the United States, so it's best to go with one of those. 
Additionally, selecting energy-efficient models benefits the planet. You can keep your house cool without adding to global warming since they utilize refrigerants that are safe for the ozone layer. As an added bonus, they give out fewer greenhouse gases. 
Furthermore, an energy-efficient HVAC system may add around ten percent to your property's value. Customers are more likely to buy a home with an energy-efficient HVAC system because of its long-term financial benefits. 
That's why it's essential to note whether the company offers energy-efficient HVAC system options for your house, as this can imply that they care about the environment. 
Conclusion 
Your HVAC system is essential for providing your family with the safest and most comfortable home environment imaginable. Therefore, it's necessary to hire a reliable HVAC service since this will ensure that your system is properly maintained. 
If you want to narrow your choices, you may ask for referrals or read online consumer reviews. Consider if they offer a face-to-face consultation and a written, comprehensive quote. 
Finally, ask about their HVAC energy efficiency options. This is a good indicator of their concern for the planet.