Window sills are often the most popular place in a home. They offer comfort with beauty, especially with a thick pillow on top and an outward view. You create a homely environment and security thanks to the niche that defines a window. They also offer additional storage space. Drawers, cupboards or a folding bench can be equipped with them. You can create a homely environment and security thanks to the niche that defines the bay windows.
You can find window seats in homes that represent almost every architectural style. It could be from colonial to contemporary or even medieval. The fact that they have endured for so long speaks of their shape and versatility. They will also find their place in every room. In order to match the existing furnishings, it can be cut. They can act as a stool in the kitchen, a trunk bench or a hiding place in a room.
If you are looking to make a space your home and make architectural changes to the window seats, a bay window could be the greatest addition! In this article, we cover everything you need to know about bay windows inspiration ideas.
Bay Window Definition
Bay window is defined as a window space that protrudes outward from the main walls of a building. It forms a compartment in a room. Bay windows are a generic term for all constructions of windows that stand out. It can be arched or angular. Most of the medieval windows are bay windows. They often appear as an artistic addition to the building rather than an organic part of it. The bay window contained an altar and resembled a church apse, especially in the Gothic period. They served as a small house chapel. For example, the rectory of the Church of St. Sebaldus. Exterior spaces would not be possible with an ordinary flat window. Rowhouses, semi-detached and single-family houses are popular for having them. Nowadays, apartment buildings have adopted them as well.
How are bay windows supported?
A bay window is three windows that are mulled together at the factory. Consequently, they form a single large unit. The large center window is framed by narrower casement or double-hung windows on all sides. Bay windows must be braced from the bottom. They could also be supported from the top by steel cables bolted to the overhead framing. Both systems work well. Although support cables are much less visible because they are hidden inside the window frame. Not all manufacturers provide support cables. Support cables can be purchased separately and adapted for use on virtually any bay window.
Bay Windows Seating
Do you envision large windows and floral curtains when you think of bay windows and bay window seating? Although conventional methods may come immediately to mind initially, a growing majority of modern homes are enjoying the magic of the bay window by integrating modern seating into their homes.
Bay Window Seating in Kitchen
The bay windows seat would also provide a pleasant change from the kitchen's cabinets. The throw pillows, cushions, and fabric add stylistic involvement to a space that is otherwise characterized by countertops.
Bay Window Seating Bench
A little bay window seating bench is the most popular and classic approach to furnish a room.
Bay Window Seating in Living Room
A bay window seat acts as a great addition to a living room or living space. Not only does it make a space appear larger but also provides a cozy spot to sit on.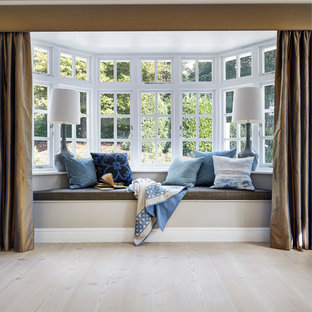 Bay Windows Seating in Room
If you have a room overlooking a wonderful room, the addition of bay windows will be the best to make the most of it.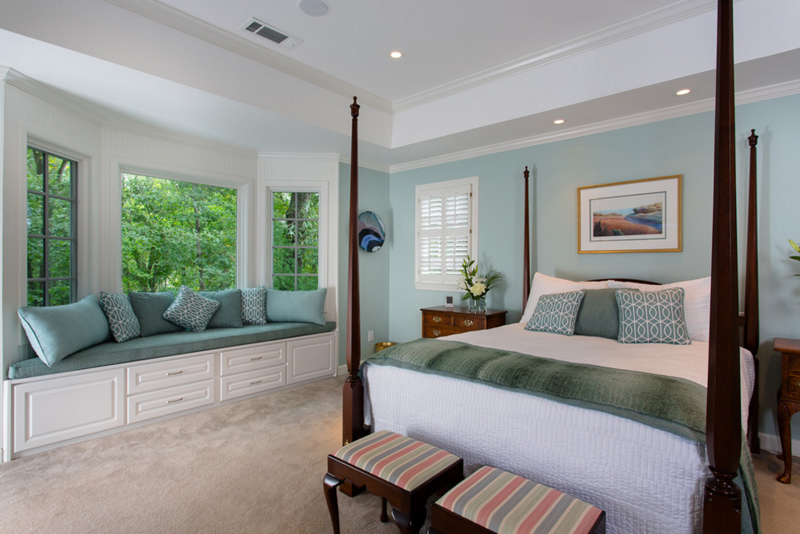 Bay Windows Ideas
The overall idea behind your bay windows is critical. Firstly, you might want to go all out with the decorations in the room. You can, however, take a more practical approach. As a result, the decoration of your windows must reflect your concept.
To enhance their presence, you can use a lot of fabrics and curtains to decorate it. Consult the interior designer, buy some bay window curtains, and hang them on the interior window panes. Furthermore, you can pair these with large pillows to make them more aesthetic.
You can also do away with the traditional approaches and add your own take to them. A style must be boring because everyone does it. You can change it up by pairing your style with it. As a result, the idea behind your bay windows decoration will appear very remarkable.
Read Also: Kids room ideas | Decoration, furniture, wallpaper and much more
Curtains of various types can be used. We elaborate on it below. You can also add plants to make it more natural. This is very beneficial. As bay windows allow more sunlight, you'll not need to find another space for your little garden.  Remember to arrange them in appropriate bouquets. After that, you can also choose to hang them from the bay window's pane. In conclusion, the end product of the look of bay windows is in your hands.
Bay Window Curtains
You might face difficulty finding the best curtain design for their bay window. Bay window curtains do not detract from the beauty of the outdoors that we see through them. The width of the windows allows plentiful amounts of sunlight in a room. It not only makes the room appear bigger but also allows room for change. Curtains can be a great addition in this case. There are various types you can adopt.
Monochromatic shade curtains for Bay Windows
Bay window curtains in monochromatic shade provide a harmonious look at home. It looks modern and chic unlike when people decide to clutter the space.
Majestic Curtains for Bay Windows
Bay windows look royal when paired with majestic curtains. Similarly, it also complements well with the medieval era look if that inspires you.
Floral curtains for Bay Windows
Light patterned fabrics work wonders on bay windows. Certainly floral curtains add a different personality to this living space.
Tie top or tie back curtains for Bay Windows
A low-effort but effective idea to decorate your bay windows could be to use either tie top curtains or tie back curtains. They are easy to remove and support different kinds of bay windows.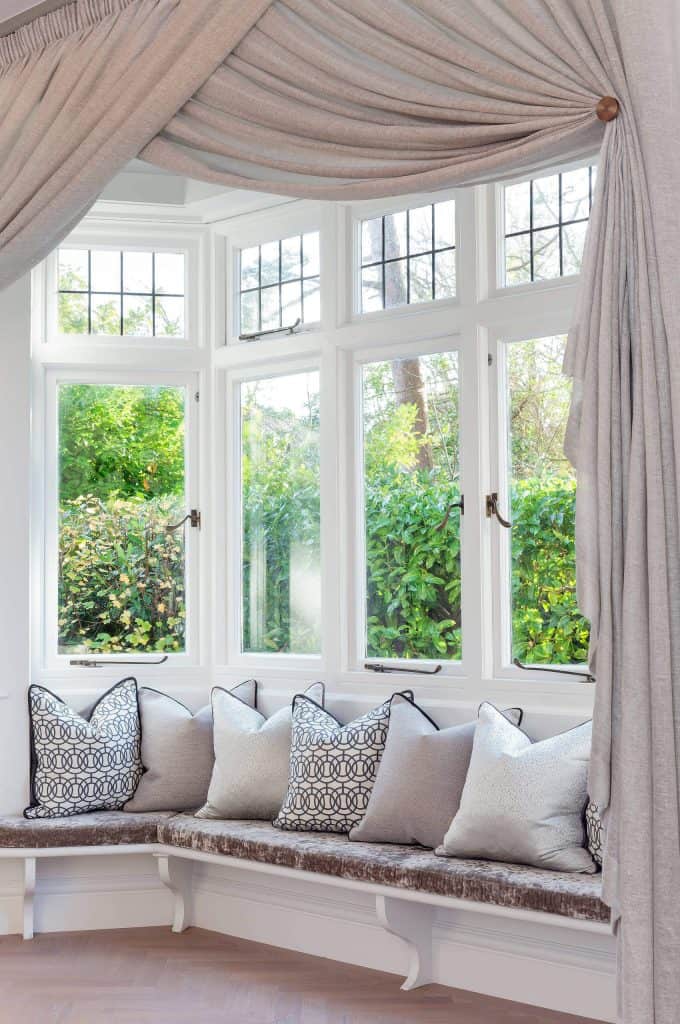 Bay Windows Curtain Pole
A bay windows curtain pole is a piece of hardware used to hang curtains over them. Bay window curtain poles may be modified. This achieves the needed distinctive shape as required. They are suitable for putting poles in otherwise challenging window situations. There are several curtain pole alternatives for any kind of bay window. There are four primary alternatives to choose from when it comes to bay window curtain poles. Choosing any of these according to the size and shape of your window would be appropriate:
five-sided curtain pole for bay windows
three-sided curtain pole for bay windows
two-sided curtain pole for bay windows
eyelet curtain pole for bay windows
Bay Window Curtain Rod
Narrow places for attaching curtain rods, strange angles, and problematic molding can make installing curtains on bay window curtain rods difficult. It is possible, however, to build a custom decorative curtain rod in a bay window. Bay window curtain rods are similar to conventional curtain rods. The only difference is that they have swivel sockets and connectors. This creates the angles in the bay. If the bay window is very wide, you can cut and connect metal rods together. It also has the option to screw wood rods together to acquire the range as needed. To find the perfect bay window curtain rod, follow the steps below:
Bay Windows Cost
It should come as no surprise that bay windows cost more than a standard double-hung or slider window. They are huge windows that need great consideration during construction. Consequently, due to the nature of their construction, a Bay Window might potentially cost around $1500. It can also go up to $3000. This is dependent on size.
Bay Window Bench
Installing a bench alongside a bay window is the most sought after choice. By turning it into a shelf, It can be made more useful. With embroidered pillows and am open shelving underneath the seat, it will be a perfect match for your home! This alternative is also easy. Creating or renting out are the two options available. It is ideal for functional settings like living spaces, rooms or even kitchens. Attach the shelf's underside along the back wall. Vertical pillars could be added to increase strength.
Bay Windows Exterior
When one thinks of bay windows look at the exterior, ancient architecture comes to mind. Select colors of your choice to modernize the bay window. Different paints will create an interesting contrast. Although some might choose to have a bay window in the first place for its elegant look on the outside.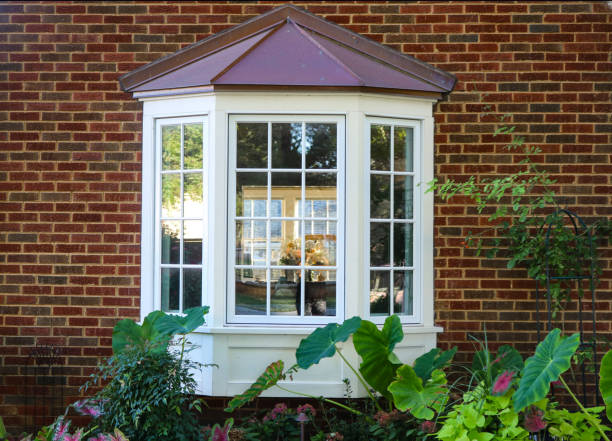 Bay Windows Design
The classic design of bay windows first appeared during the English Renaissance. They were customarily located at the far extremity of a hallway. It was traditionally behind the pedestal of the lord of the home's seat. The majority of these early types were oriel windows (bay windows crossword clue). Their drawback is that were typically aesthetic rather than practical building components. Bay windows were popular in Victorian architecture. The British Isles is known to be a big hit as well. Throughout the region in modern homes, one can see these types. However, there is no reason to stick to old designs now. They are available in various styles and could be customized accordingly. Inspiration for this has been provided throughout the article. To have a better picture of what kind of design you want for your bay windows, you can refer to these points:
Shape (trapezium or square)
The ratio of room to bay window dimensions
The layout of the furniture
Location of the bay window in the room
Height of the ceiling
Height of the floor
Bay Windows Plan
Permission should be sought from the planning permission before the construction of bay windows. This is because these windows project out towards the exterior. Permission is not required if the construction will take place sideways. The best way to bring your vision of bay windows to life is to draw. Sketch out the plan. Professionals are available for the same process. You can refer to this image for reference.
Bay Windows Elevation
The most difficult part of the installation is deciding bay windows elevation. Different people adopt different kinds of dimensions and heights to suit their needs. This depends on whether the bay window is on the terrace, balcony or ground floor. The following image is an example and includes a detailed view of the elevation.
Frequently Asked Questions
What is a bay window called?
Another name for bay windows is an oriel or oriel window.
Why is it called a bay window?
The name itself is derived from the old French word "baee." The word means "opening" or "hole." A grouping of three or more windows is called a bay window. It extends further than an outside wall in a square, hexagonal, or octagonal configuration. The windows form a compartment because they extend beyond the outer wall.
How much should a bay window cost?
The average cost of a bay window is $1500. The range can also go up to $3000.
What is the difference between a bay window and a bow window?
A bay window is formed when two or more individual windows are linked side by side. They also protrude away from the wall on which they are fixed.  The general architecture of a bay window comprises a glass window with two other smaller windows positioned on either side.
Typically, a bow window has four or five apertures. The framework of a bow window is curved. This gives the home a rounded aspect from the outside. These are also more expensive than bay windows.
Are bay windows outdated?
Bay windows are not outdated. Many people continue to have them to add beauty and space to their homes. Contemporary choices are also available. Hence, they look more modern and stylish.