You don't have to spend so much time and money on a complete renovation just to give your home a new look. If you're willing to use some elbow grease, you'll find numerous, easy home improvement projects you can do to renovate your space. Read on to discover some brilliant home improvement projects that will help upgrade your home.
1. Install Skylights
One of the biggest trends in home improvement right now is to let more light in and connect with nature. If replacing your existing windows with floor-to-ceiling types seems like a hefty investment, why don't you just add skylights?
You can include skylights in your attic, bathrooms, or bedrooms. While the skylight cost isn't that cheap, adding one or two to your home will improve the overall aesthetic and functionality while boosting your home's resale value.
2. Add A Splash Of New Paint
Perhaps one of the easiest projects that can enhance any room is a fresh coat of paint. Repainting can give your drab and washed-out room a burst of brilliant depth.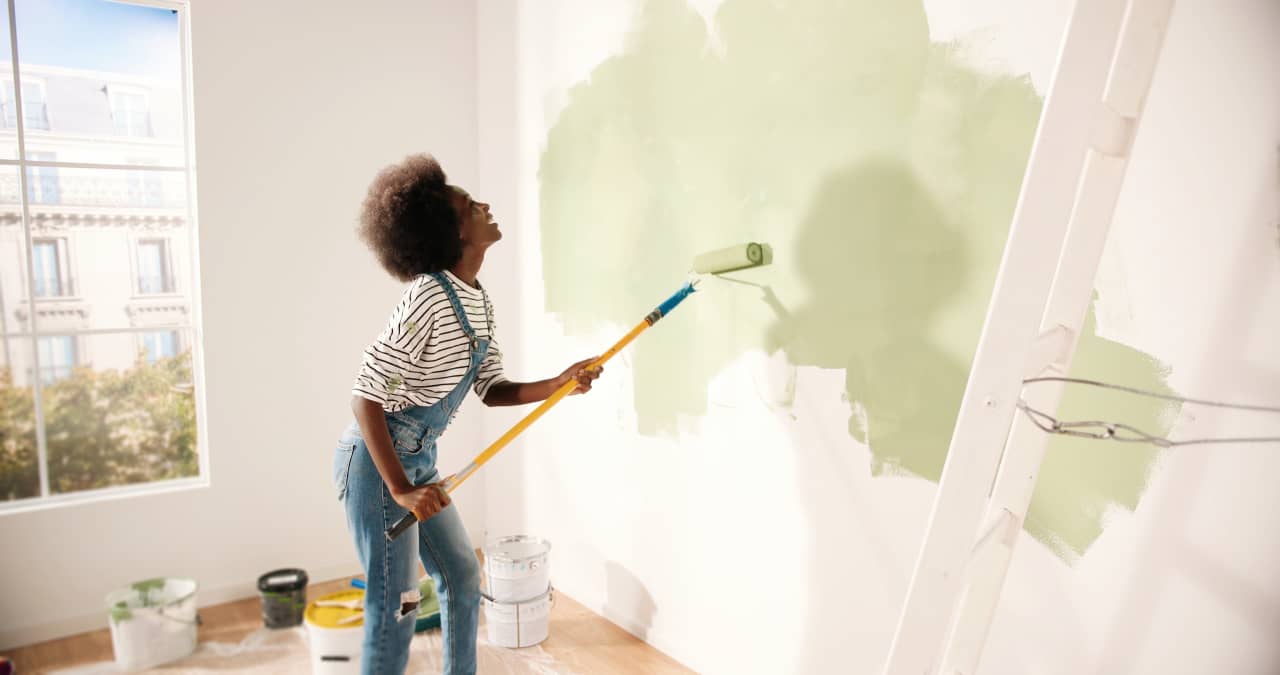 You can opt for a pop of color with an accent wall in your bedroom or living room. Paint the cabinets to update the look of your kitchen. Make a statement with painted ceilings. While you're at it, do some quick paint touch-ups where existing paint is chipped or peeling. Or if you want, paint your wall a different hue altogether to give it a new lease on life.
3. Invest In A Water Filter
Most homeowners worry about the taste or purity of their tap water–whether the water comes from the ground well or the municipal pipeline. This is why they often include boxes of bottled water on their grocery list.
However, there's a cheaper and easier way to obtain clean drinking water–an under-sink water-filtration system. It provides you with clean water without cluttering your countertop or sink's space. Plus, it's quite easy to install on your own.
4. Update Kitchen Hardware
Your kitchen cabinet's knobs and pulls may seem insignificant, but updating these pieces of hardware can easily give your kitchen a facelift without breaking the bank. On top of that, it's as simple as unscrewing the old ones and installing the new ones.
5. Accessorize Your Front Door
Your front door is one of the things guests will notice about your home. So, make a statement by giving it a fresh coat of paint. Then add small accessories and detailing, such as a house number, a letterbox, or outdoor lighting.
You can match the finishes on these accessories for a tailored look. Or you can use a mix-and-match arrangement with upcycled or vintage fixtures to create a unique aesthetic.
6. Install A Bathroom Vent Fan
If you want to avoid having steamy mirrors, fogged-up windows, or stale odors in the bathroom, then consider installing a bathroom vent fan. Unlike other bathroom projects, installing a vent fan is quick and smooth. With the right tools and skills, you can install new ventilation in just three hours.
Having a bathroom vent fan not only leaves your bathroom odor-free and dry but also helps prevent the growth of mildew and mold, which can result in health issues.
7. Incorporate Nature Into Your Home
Another lovely home improvement project that won't require too much time or money is bringing nature into your home with indoor plants. Flowers and plants have the power to turn an uninspiring space into an inviting one.
Adding plants to your home is good for your health too. Even the simplest potted plants can freshen the air and boost vitality and mood. If you don't have a green thumb, you can choose houseplants that don't require much maintenance, such as snake and spider plants and red aglaonema.
8. Include A Backsplash
A backsplash not only adds character to your kitchen but also protects your walls from spills and splashes. If installing traditional tile backsplash is out of your DIY league or budget, you can buy beaded-board panels that are easier to install and can be done without hiring a professional.
You might find some sticker backsplashes at your local store. Just don't expect them to be as durable and long-lasting as other backsplash materials, though.
9. Accentuate With Moldings
Think of crown moldings and trim work as jewelry accessories for your windows, walls, and doors. While they may seem old school, there's something so elegant about having those extra features.
Whether you're adorning your walls for the first time or replacing an old trim, moldings can easily transform a room in just a few days.
10. Install A Ceiling Fan
Replacing your existing light fixture with a ceiling fan improves the look of your room and helps you cut down on electricity costs, especially during summer. Even if your home has a central HVAC system, installing a ceiling fan can be a great option for those in-between temperatures throughout the day.
Moreover, refreshing and practical ceiling fan designs have made it easier for new DIYers to get the job done.
11. Light Up The Outdoor Areas
Don't let your home look gloomy at night. With the right outdoor lighting, you can illuminate your home and make it more attractive after the sun has set.
Consider brightening up your patio drop-offs or deck stairs with low-voltage lighting. Add illuminated walkways to your landscaping. In the patio, hang string lights on high trees to create a whimsical look.
Outdoor lighting adds beauty and safety to outdoor spaces where you can enjoy time with your family.
12. Hang Mirrors
If you have a cramped or a small home, mirrors can help make it appear more spacious than it really is. They bring in more light to your space as well, making it look brighter and warmer.
Consider buying a few mirrors that you like at secondhand shops and then hang them in areas that are dark. You can also look for decorative, statement mirrors to replace old ones in your home.
Takeaway
Carrying out a home improvement project sounds overwhelming and difficult. But there are actually many projects that you'll find easy to do. Installing skylights or repainting the walls can already give your place the makeover it needs. All you have to do is choose from this list of projects that are as simple as they are effective in revamping your home.