Mid-century interior design began as a post-World War II American design movement in interior design, product design, graphic design, architectural style, and urban design. It's now recognized globally as a significant design movement and built on the aesthetic of the modernist style, with clean, simple lines and materials mostly devoid of decorative embellishments.
The early twentieth-century German Bauhaus design heavily influenced mid-century furniture, décor, and architecture. The emphasis is on clean lines, functionality, and a futuristic appearance. Many German designers emigrated to America after the war, bringing these modern design ideas. In contrast to the ornate traditions of previous decades, the new simplistic movement served as a rebellion, symbolizing a more modern way of life.
Defining Characteristics of Mid-Century Interior Design
Being a well-known design worldwide, countless variations of this style exist, but the key components will always remain. These are some of the characteristics of the interior of a mid-century modern home:
Minimalism: This is the use of bare necessities to create a simple and uncluttered space that focuses on functionality. Chairs and tables, for example, will frequently be simple pieces with pin-style legs.
Material And Aesthetic Mixing: Natural materials such as wood, glass, metal, and marble, as well as manufactured materials such as vinyl, plastic, and fiberglass, are used in harmony in mid-century interior design.
Indoor And Outdoor Continuity: Incorporating plants into the space's interior and designing windows creates a sense of association from the inside out.
Natural Tones With Vivid Colors: The primary neutral tone of white, black, and wood is merged with indoor and outdoor shades of earthy greens, oceanic blues, and muddy browns to create a modern but natural look.
Décor Style And Ideas For A Mid-Century Style Interior
If you're considering mid-century interior design for your place, here are some ideas to guide you in achieving the aesthetic and buying furniture and decors:
Lighting
Light fixtures should have an artistic feel while not crowding the headspace. Thin, straight lines with neutral color tones are famously used, with metals leaning to warmer tones. Basic shapes such as squares, triangles, and circles for lighting are also trendy in this style. At the same time, it's also critical to consider the focal points of your furniture.
Mixture
Mid-century modernism has a playful and modern look thanks to incorporating different accessories from various interior design styles and go well with each other. Colorful patterns complement sleek designs, and geometric furniture augments rounded ones, giving it a balance of relaxation while making it lively and modern.
Materials
Light-colored woods such as beech, elm, oak, rosewood, and teak are popular in mid-century interior design because of their natural appearance. An example of this may be hardwood floors and a wood-paneled ceiling with main beams that add warmth and texture to the rooms' interiors. Brass and chrome are popular metals for occasional use. At the same time, the use of clear glass, plexiglass, and vinyl make the majority of the other components.
Vintage Furniture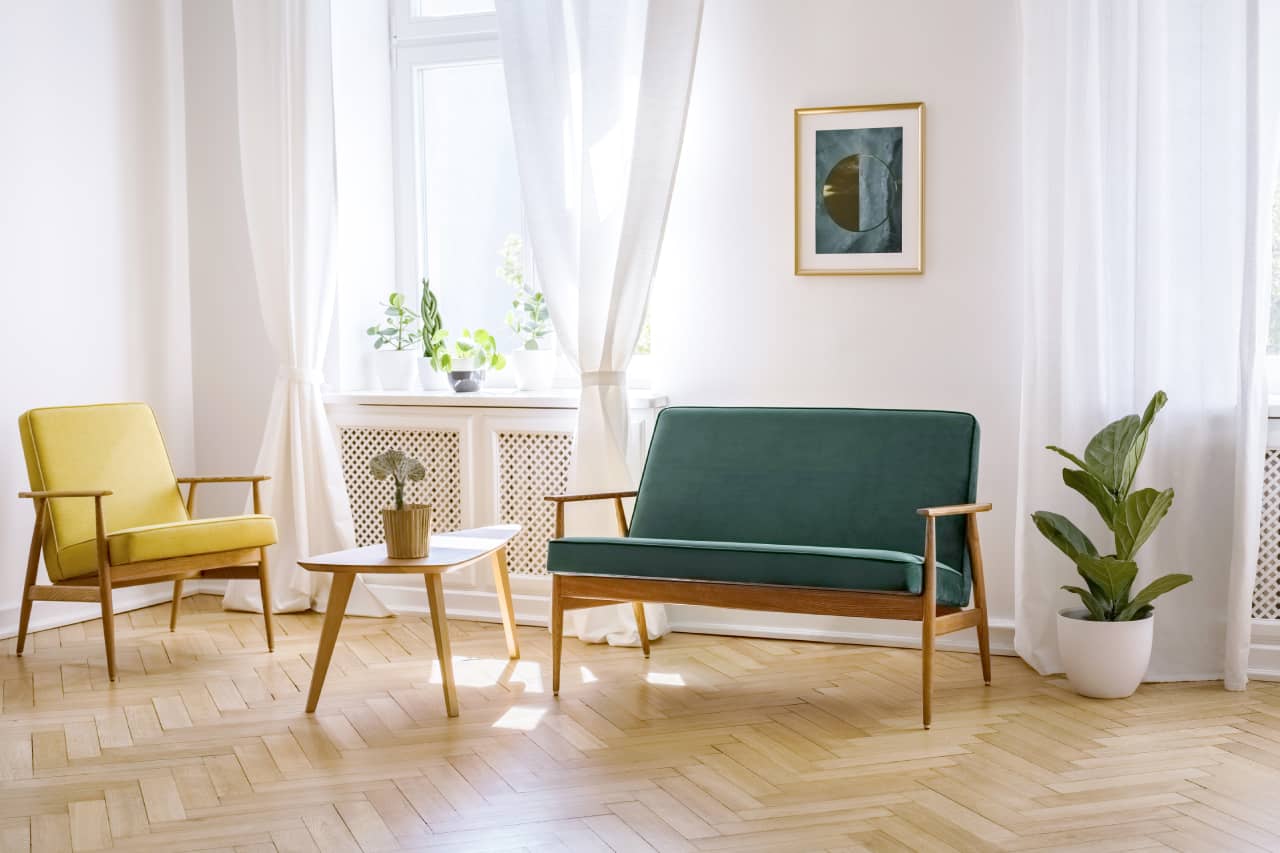 If you're wondering where to start, vintage furniture is the simplest option for mid-century design. Look for pieces with clean lines, geometric shapes, minimal adornment, and colors that complement the overall aesthetic. You can commonly find these pieces of furniture at flea markets and antique stores.
Small Scale Style
Mid-century modern furnishings are ideal for small spaces because they create a spacious interior feeling. Stands, chairs, and tables distinguish this modernist style with thin wooden legs. These sleek and slim pieces of pieces are enhanced by large windows and create a relaxed look.
Geometric Forms
These geometric styles demonstrate the modernist movement of mid-century interior design. Metallic pieces with geometric designs add a fashionable touch to any room, giving it a modern look. Using simple shapes such as circles, squares, rectangles, and triangles defines this design visually at times. Starburst or funky shapes are also used, considering they complement the space's overall look and feel.
Warm And Mellow Colors
Combining classic silhouettes, minimalism, and vintage decors shouldn't be overpowering or forced. For this reason, a warm neutral color scheme allows midcentury accessories to stand out. A mellow color palette, combined with various textures created by mixing and blending furniture and designs, creates a seamless look for the interior. These soft, warm colors create a cozy atmosphere and make the entire setting harmonious and relaxing. Undertones of yellow, orange, red (pink), and sometimes even green and blue contribute to the overall look.
Unexpected Colors
Adding unexpected colors into the design brings these pieces to life, making them feel cozy and fun at the same time. A selection of simple furniture can be set against a backdrop of pattern wallpaper while bright paints highlight some simple furniture pieces. These colors and matching will synchronize the entire mid-century interior design as long as the bright and mellow colors match.
Silhouettes
Slim and sleek silhouettes in furniture and designs create clean lines, making the interior spacious and balanced and ideal for small spaces. Furthermore, combining vintage and modern furniture makes the area feel modern while remaining relaxed and cozy. It's essential to note these pieces' focal points, lighting source, and proper spacing in creating a silhouette that allows us to achieve a modern feel.
Mid-Century Interior Design Examples
The style of mid-century modernism is well-known throughout the world. Palm Springs, California, on the other hand, has the most mid-century homes. Palm Springs was home to famous mid-century architects who built hotels, homes, and others; many homeowners emulated the style when building new homes. This style's most significant furniture designers include Charles and Ray Eames, Alvar Aalto, and Paul Evans. If you're looking for decorating ideas, their works can help you figure out what to look for regarding mid-century pieces.
Conclusion
As a popular interior design that stood the test of time, it's essential to remember that the concept of mid-century modernism is less is more while still being fun and cozy. It represents a forward movement while remaining grounded in the natural world, making it comfortable, trendy, and appropriate for any setting.