Nearly everyone dreams of owning a beach house. It can be turned into your little corner in the world where you retreat from the noise and bustle of the city. With a soothing and breathtaking ocean view, you'd certainly want to stay in for a while and start your vacation.
Suppose you've recently bought a beachfront property; this is the perfect time to challenge your interior design skills, style your home, and make it yours. Gladly, with the rising popularity of beach house-themed homes, styling your coastal property can be made easy.
Styling A Chic Beach House
When designing a chic coastal home, you don't need to stretch out from what you can no longer afford to adorn and style the place. With a bit of creativity and a few selected beach house décor, you can turn your space into an elegant home.
To know more about the basics of designing a chic coastal home, follow the guidelines below.
1. Introduce Design Flow
Typically, beach houses are pre-designed in an open floor plan, implying fewer divisions. The spacious layout is a great way to boost adequate ventilation, naturally cooling your living area and minimizing odors.
While designing an open floor layout can be quite tricky, use this chance to create flow in your design choices. Since you're going for a chic coastal interior, gather design elements and décor that resonates with this vibe.
Use repetition and opt for a touch of rustic furniture all over your place. Alternatively, you can place a massive shabby rug to pull everything together and unify the living room to the kitchen. This cohesiveness allows you to ease eye movement while incorporating the theme to all house corners.
To define zones in your shared open home, arrange your furniture and pack them all in. Make sure to cut back on clutter for a sense of calm and highlight your pieces' aesthetics.
2. Let Natural Light In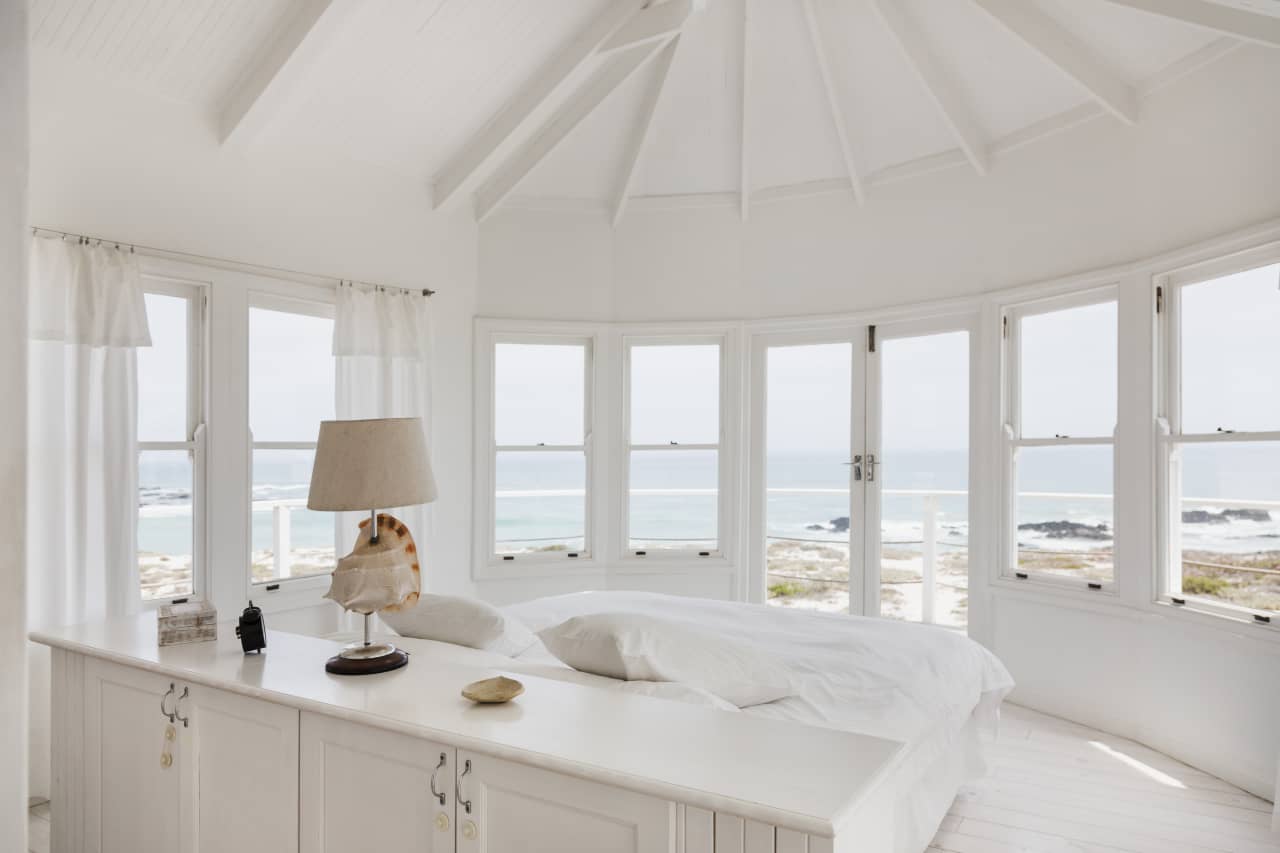 A chic coastal home requires an abundance of natural light to showcase your décor and create an airy and inviting atmosphere. The warm sunshine can also naturally boost the comfort in your home.
Suppose you have several windows in your beachfront property; choose blinds, drapes, or other minimal window treatments. Minimal window solutions allow you to maximize and appreciate the beautiful view. You'd want to feel like there's a visual connection between your interiors and the outdoors.
To allow maximum light to get through your home, don't block your windows and entryways. Display a few glass décor, such as mirrors, polished materials, and shiny valuables, around your living area. Glass elements can reflect natural light into your space, making it appear big and brighter.
Glass is a common feature in beachside houses. This design element can also be used to add elegance and character to your coastal home, factoring in the chic interior concept.
3. Opt For Simplicity
While it can be easy to overdo the decoration in your coastal home, a savvy way to approach your chic theme is to make your interiors virtually seamless. In this sense, chic can be translated to clean, sleek, and simple design elements.
For instance, instead of purchasing an intricate coffee table, go for a slim one to pair with your white couch. You can also try to put an ivory faux fur rug to introduce flair into your living area. The simplicity of your décor and design will speak for themselves. When successful, this can make your beach house more chic and beautiful.
In addition, displaying a few indoor plants and herbs is a simple and affordable way to style your coastal home. These greeneries will blend well with the ocean view while boosting your home's indoor air quality.
4. Consider A Soft Palette
After arranging your furniture, embracing natural light, and going minimal, it's time to choose your color scheme. While you might be inclined to paint your walls in white and blue, you can opt for other earthy colors.
Chic interiors usually incorporate neutral palettes, which are pleasing to the eye. A softer palette paired with simple and relaxed upholstery also depicts a beachside home.
Don't be afraid to experiment. The key is to use colors that resemble the picturesque scenery of the sea followed by a mix of selected playful hues. For instance, think about blending soft coral with shades of blue. This can result in an eccentrically elegant home.
On the other hand, you can opt for hints of beige mix with warm white décor for a modern chic look. Do your research and look for a soft palette that resembles your ideal chic beach house.
Furthermore, consider having blue as your accent color rather than your main one. Blue preserves the beach-like appeal of your home. It can likewise add a pop of color to your crisp and clean interiors, supplementing character amidst all the neutral hues.
Alternatively, if you opt for a monochromatic scheme, use different tones of the same color to add dimension and visual flow to your home. For instance, if you prefer beige alone, incorporate other shades, such as sand, cream, khaki, or tan. If you like grey, mix it with taupe or stone.
5. Embellish With Sea-Inspired Décor
To finalize your chic coastal home, carefully choose your home accessories and decorative pieces. Take advantage of your lovely view and use minimal seaside elements to complement the rest of the backdrop.
Apart from displaying your glass items, mount your painted seascape wall art in your communal area. You can also exhibit a few of your beachside photos to complement the rest of the design elements.
Additionally, go ahead and place your sailboat figurine together with your seashell collectibles. Take out all of your beach-inspired items and select those that perfectly fit your chic coastal theme.
The Takeaway
Coastal homes incorporate common design fundamentals, including natural light, soft colors, minimal design, and the like. In turn, this makes beach interiors beautifully unique from other design themes. Follow the design guidelines above to come up and pull together a chic beach house you certainly wouldn't want to leave.